Genealogy Search Page 1 Genealogy Search Page 2 Genealogy Search Page 3
GenealogySearch.com is a research center for geneology, ancestry, surnames and family tree searches on-line. Presented here are search portals to several of the largest and most popular family history websites. From this genealogy homepage, you can easily search and locate your ancestors. While the major search engines can be helpful, they often find more information that anyone can possibly filter in a reasonable period of time. So for genealogy searches, ancestry searches, family searches, surname searches and geneology searches, it is much faster and easier to use a research website such as this. The following are not all of the research portals available on the internet.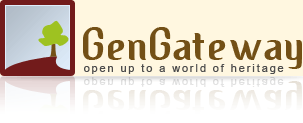 Search the largest genealogy and surname research directory on the web!
---
Locate 5000 Databases Instantly!

GENEALOGY DETECTIVE 2003. The Number 1 Rated Genealogy Research Software.



Here are what some of the Pro's say.....


"Investigating your family history worldwide just became
quicker than ever! I found it to be fast, effective and productive.
The surname database and searches alone are worth the price."
Steve Lacy, Webmaster, GenGateway.com -- Jan 2000.




"And speaking of genealogy-related software, I bought the software
program Genealogy Detective this past week, and have been putting it
through its paces. I'm happy to report that it's one of the best research
tools I've used online, and best of all, it's saved me tons of time."
Nancy Hendrickson -- Feb. 2000
noted genealogist, Publisher of "Ancestor News" &
Author of "How to Find More Ancestors Through Online Networking"




"This very inexpensive program will assist you to locate missing links in
your own family roots, search SURNAMES worldwide and access
THOUSANDS of Online databases, instantly! I highly recommend
you consider sourcing this excellent research tool... I did!"
Yvon Cyr Acadian Genealogy Homepage -- March 2000



---

FAMILYSEARCH
LDS's Genealogy search engine of 700,000,000 names.

U.S. Surname Distribution
Enter a surname below and click display.
A map of the United States will appear.
The distribution of people with this surname
within the 50 United States will appear.

COMPUTERIZED ANCESTOR FORMS #2
Search for Group Sheets:

Usgenweb
Locate public domain records, copies of census records,
marriages, deaths and other public documents in America.

RootsWeb -- GenConnect Global Surname Search
Search the RootsWeb Surname Search List










Copyright 1999-2003 GenealogySearch.com. All Rights Reserved.